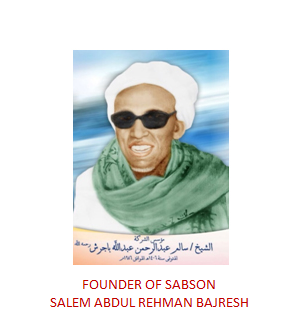 About Us
The SABSON group is a diversifed business group linked to famous business house from Hadramout region, Middle East. The group was started more than 100 years ago in Hadramout and now operating in Yemen, Oman, UAE, Saudi Arabia, Jordan, Bahrain, Europe, Indonesia, Eastern Asia & Africa.
The founder of the group Mr. Salem Abdul Rehman Bajersh was a prominent name in the business community in Hadramout province. He started the business of import & export of foodstuff items and fishery products in the year 1910 and concentrated his business in Hadramout state and Aden, the British colony at that time.
After the unification of Yemen in 1990, the group expanded the business to all Middle East Governorates under the name of Salem Abdul Rahman Bajersh & Sons (SABSON) and increased and expanded its activities to satisfy the needs of its valuable customers. The group activities include Owning & operating Power, Rental Power plants, Cement, Steel, Food Processing, Polystyrene Products Plants etc. Additionally the group is involved in trading activities of Commodities, Automobiles, Real Estate to name a few.
SABSON is considered one of the most important trading cores of Southern & Eastern provinces, being the pioneers in establishing intermediate Cement industry in Mukalla & Aden and state of the art Steel and Power plants in Mukalla. In addition, we are one of the biggest leading importers & distributors in Middle East.
Mission
To strive and be the local company with International quality and standards, successfully become valued and respected by customers and to earn the position of the energy services provider of choice.
We are accomplishing our mission through well established and robust corporate culture and policies and more importantly our talented, highly trained and culturally diverse people and their relentless commitment to quality, customer focus, integrity, and compliance.
To spare no efforts and work persistently towards best possible career development and personal welfare of our employees and become the employer of choice in the region, a matter that will doubtlessly guarantee us in earning the privileged position of the preferred service provider by energy customers.
Vision
To strive and contribute in leading the efforts of creating professional, healthy and world class energy business environment in the region in establishing an excellent local company capable of providing compliant and international quality services and products to energy market.
To be among the pioneers and best companies that is locally respected and regionally and internationally recognized and accepted as professional company in terms of quality, safety, integrity, ethics, compliance and corporate social responsibility.
Sabson Energy FZE, Dubai- UAE.
Sabson Marine Services Agency.
Sabson Shipping, Mukalla/Nishtun, ROY.
Mukalla Raysut Cement Company.
Bajresh Construction Company.
SABSON (The Holding Company).
Trofina foods factory, Sharjah, UAE
Salalah Food Manufacturing Co. LLC, Oman.
Salalah Macaroni factory, Oman.
Hadramout Investment Power Company Ltd.,
Mukalla Iron & Steel Company
Sabson Automobile Company.
Sabson General Trading LLC, Dubai- UAE.
Creative Minds LLC, Dubai.
Al Buraq Transport & Zain Taxi.
Sabson Real Estate, UAE & Saudi.
CAC Bank, Djibouti.
Sabson General Trading LLC, Oman.
Mukalla Resout Commercial & Industrial Trading Co.
Pan Ocean Ltd, Bulgaria.
Sabson Energy Ltd, Mukalla.
The National Limestone Quarry Company
Hadramout Polystyrene Products Factory
Texcal Mahato EP Ltd., Indonesia.
Leadership Through Vision, Growth & Commitment to Quality
1st IPP in the Country with state of the art technology having established 88MW (75 MW site condition) extendable to 105 MW in Mukalla, Yemen (June 2010) by name Hadramouth Investment Power Company Ltd. (HIPC). Record Installation in 12 months time period, set to resemble a Model plant.

1st to set up a 25km transmission line and in-house T & D systems without dependence on the Public Electricity Corporation for transmitting power to the Sister concern associate Mukalla Iron & Steel Company (MISC).

1st from the region to set up Food Industry in the Hamriyah Free Zone, Sharjah-UAE.

1st Steel plant in the region with state of the art technology with Steel Melting Shop & Rolling Mill of SIEMENS make

1st to rope in the OEM for operation & maintenance of the Power Plants (IPP).
SABSON is considered one of the most important trading core of Southern and eastern Provinces, being the pioneers in establishing intermediate Cement Industry in Mukalla & Aden. Addition to the above mentioned, we are one of the biggest leading importers & distributors in Yemen in the following fields.
Foodstuff Items: SABSON has business partners in Oman, China, Kuwait, India, Pakistan and many other countries, for all along the years SABSON has built a very special relationship of trust and commitment with the people of these countries. The Company continuously focuses its efforts to better understand the changing lifestyles of the consumers and anticipate consumer needs in order to provide convenience, nutrition and good quality product offerings. SABSON imports many items as per the following:
Wheat and flour from Oman. Sales volume above 50,000MT www.Salalah-mills.com

Tomato paste from Tunhe company China, one of the biggest producers of Tomato paste www.tunhe.com. The sales volume is more than 320,000 cartons.

Detergent powder from China under "White cat" Brand. Annual sales volume 1,104,000 cartons.

Edible oil from Oman. Sales volume above 18,400 MT.

Juices and flavored milk from Kuwaiti Danish Company under "KDD" brand www.kddc.com.

Milk powder from Salalah food Co. in Oman. They bring milk powder in bulk and pack it in Oman under "Nino "brand.

Several kinds of rice from India and Pakistan.
Electrical & Home Appliances: Electrical & Home Appliances: SABSON is distributor for two famous brands in China, in refrigerators and A/C. The first company is "KELON" www.kelon.com.cn . Our sales volume is 20,000 units and the other one is "HISENSE" specialized in TV's www.Hisense.com , the sales volume is 12,000 units.
Automotive Vehicles: SABSON is distributor for the biggest Chinese car maker "China First Automobile Group" under their brand "FAW" www.faw.com and the agent as well for another Chinese car makers "South east (Fujian) company" under their brand "Soueast" www.soueast-motor.com.
SABSON believes that Satisfaction of our valuable consumers is everything. SABSON is conscious of the trust that consumers respond in its products.
Business Principles
SABSON is committed to the following Business Principles: SABSON's main objective is to market the products in such a way as to create value that can be sustained over the long term for Employees, Consumers, and Business Partners.
SABSON does not favor short-term profit at the expense of successful long-term business development.

SABSON recognizes that its consumers have a sincere and legitimate interest in the behavior, beliefs and actions of the Company products in which they place their trust and that without its consumers the Company would not exist.

SABSON has a belief that the success of a company is a reflection of the professionalism, conduct and the responsible attitude of its management and employees
Operational Performance
Operational Performance Improvement.

Increasing Customer & Channel Contribution (IC3)

Reduction in Cost

Yearly Targets

Operation Excellence
After Sales Service
SABSON has come up a long way since from the inception and we are glad to see the name engrossed in the Top Most Valuable Brands across here in the region. Our name has become synonymous with innovative & customer Centric Services Provider. Our aim and motto are related to the "The services and how it pays"
The services & how it pays:
We are proud to say, we "Sell the right Services". The 'Management agenda' for 'maturing companies' focus on the real requirements of the 'after sales services' - service needs of the customer, which will persuade customers to buy their products. Our experiences so far remind us of the fact that 'Customers need be treated on priority' & never ever think of losing them.
We design the right Services and measure the customer satisfaction. At the moment most organizations provide too few or too many service offerings. In reality, there are very few companies who fulfill most customer requirements by focusing their efforts on just three to four of the following:
"RESPONSE TIME, after hours availability, Product coverage and Add – on services".
Our group sets an example, given the margins to operate in this country, which after the introduction of various companies and provision of services, has paved the way for development all around and made the customer contented and proud to have an association with us.
There should be a consistent, high quality service maintained all the time for any growing company whenever and wherever they operate. It is highly damaging to "customer relations" if the time bound response is not guaranteed thus failing to deliver the right service. Part of the problem is that a "Service Business" is too often regarded as the 'stepchild' of the core product group, so Service Managers aren't given the 'resources' to develop the right techniques, systems, tools, incentives to maximize returns and take fool proof measures. However, a handful of companies are now capturing the tremendous value from their Service Businesses by adopting a more careful, more fact and tactful based approach and by making the task a priority of Sr. Management. SABSON being a typical example for this which has captured and won the hearts of many.
"Customers are segmented according to their Service needs. We remember that the revenues from after sales are around 15-25 % and in our view are still more and proportionately increasing. Undoubtedly, putting a price on Services is more difficult than pricing products because the benefits are less tangible and they often lack the standards as a benchmark.
We are proud to state we share risk with the Customer "The companies that handle services most successfully have developed terms and conditions packages that 'share risk with the Customer' ". "And one can count the number of companies for the matter".
To all our Valued Customers
SABSON shall endeavour to continue to patronize and extend our valuable support as usual. We can proudly say, we have created a "MOMENT OF TRUTH" by truly serving all our Customers with great Will & Spirit.
SABSON Strategy
Operational performance

Product availability

Consumer communication
Growth Is driven by:
SABSON'S growth is based on benchmarking our performance at comparable retail customers and then working to improve the less performing ones.
Product availability (whenever, wherever, however)
Product availability is the key of success in a highly competitive world. So, we are focusing on providing the best distribution system. Our objective is that consumers should have access to our products when, where and how they want them. Therefore, our distribution whole sale and retail system is widely spread to the following cities of Yemen:
Sana'a Branch: covers Sana'a city, Ibb City and Thamar city.

Aden Branch: covers Aden city, Lahj, Abyan and a part of Taiz

Mukalla Branch: covers Mukalla City and Al-Ghail and Almahra and a part of Shabwa.

Sayoon Branch: covers Sayoon, Shibam, Tarim and Al-Qaten.

Shihir Branch: covers Shihir, Al-Dees and Al-Riyadh.

Sabson, Nishtun – Shipping
<